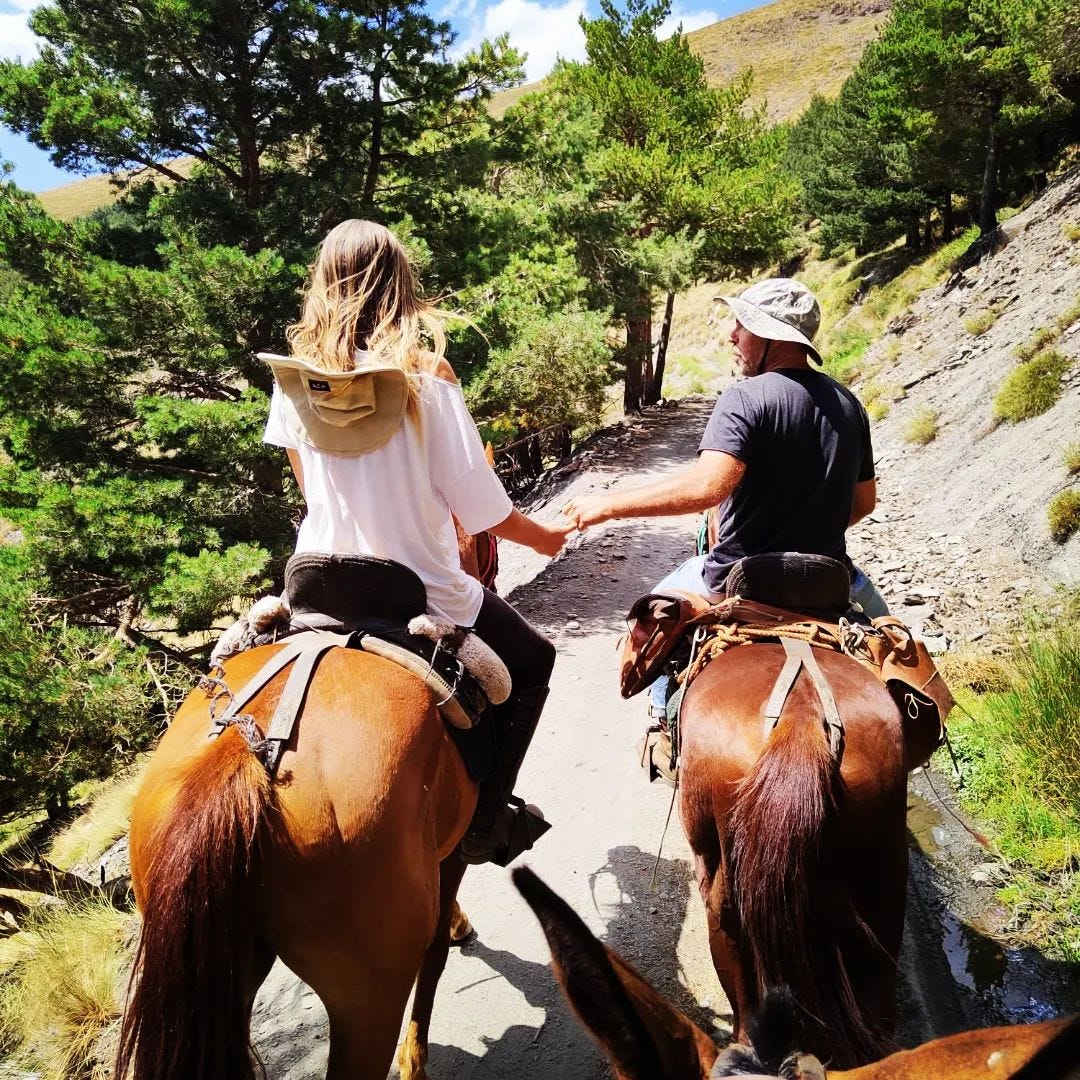 Mountain horse riding
Balance body and mind
Experience freedom
Do you need to breathe fresh air?
Do you need to disconnect from the stress of modern life and connect with nature, your loved ones and yourself?
It's time to feel free again, and find your balance!
Learn to challenge your fears, in order to overcome them and feel stronger, learn to cooperate with your horse, gain his trust and be his leader, learn to observe and listen to nature to better understand yourself and fill yourself with energy, learn to trust and let yourself go, learn and discover what balance means.

Horses, Nature, Sport and Adventure, a whole wellness programme for you.
Equestrian activities in the mountains
Work as a cowboy on horseback: become a real vaquero
Live out a childhood dream and discover the fascinating work of a cowboy. Accompany the real vaqueros of the Sierra Nevada as they take care of their cows in the vastness of the mountains, fill yourself with fresh air, bright sunshine and unforgettable emotions.
Horse and mule riding or trekking with a carriage
Enjoy riding along breathtaking scenic trails in the company of a riding instructor and mountain guide. Various options for all levels, from half-day to multi-day excursions, you will find through nature, horses and movement the balance you need.
Riding lessons and environmental education
Riding lessons in western and traditional forms, communication with your horse, knowledge of how horses live, farm school, seeing fauna and flora, and environmental education.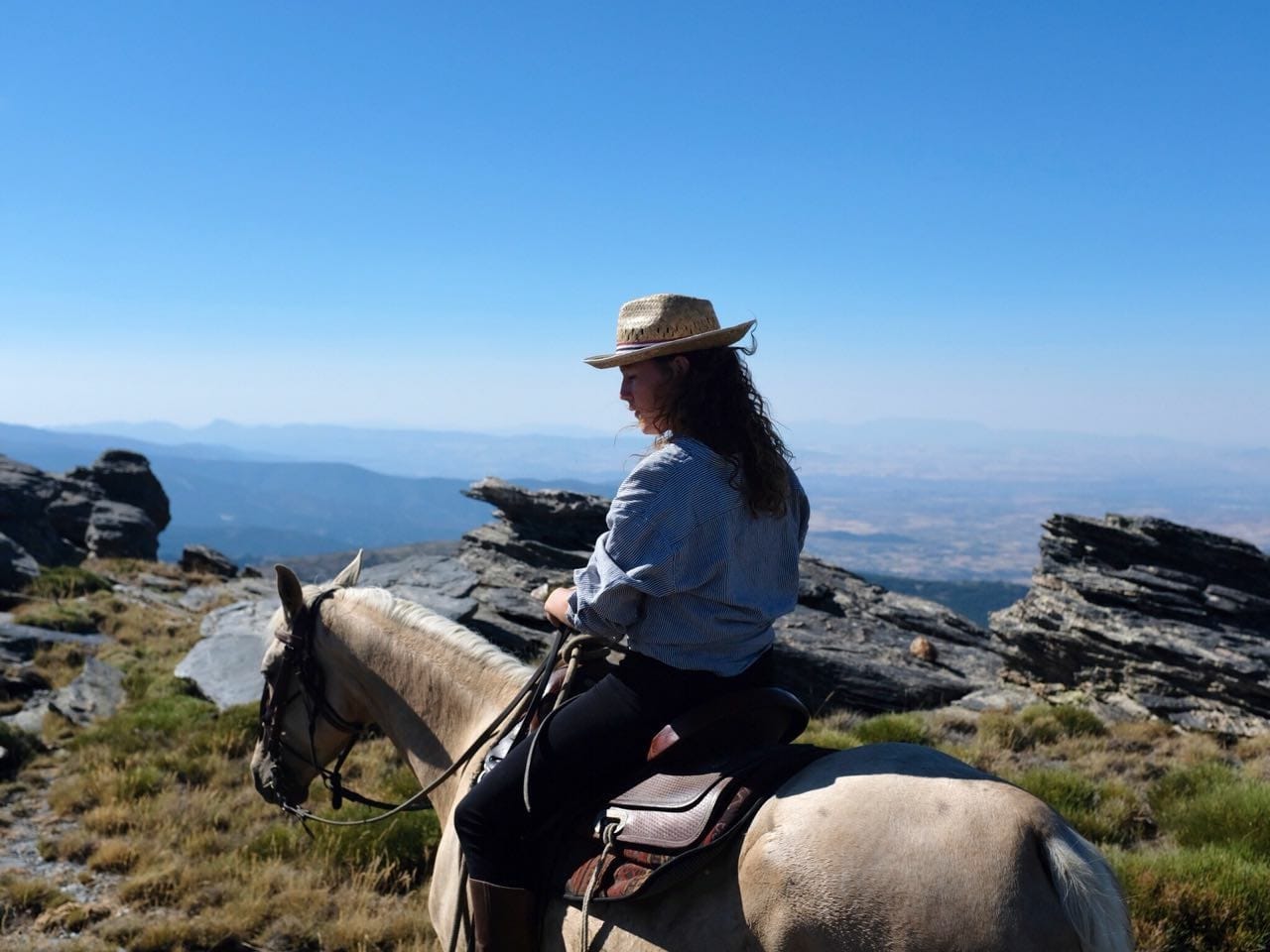 Here you will breathe fresh air in freedom, you will breathe new life into your lungs, you will fill your eyes with wonderful views, you will feel your body move as in a dance, you will smell the perfumes of wild flowers while listening to the cowbells...


A symphony of sensations to celebrate life!
Let's talk about cowboys!

The cowboy is undoubtedly the quintessential figure of the United States, popularised by Hollywood in westerns. However, few people know that this icon, considered genuinely American, actually comes from the Spaniards who came to America.

Today it is a profession on the verge of extinction, as there are fewer and fewer extensive cattle ranches that need cowboys to look after and manage herds of cows.

Although with technological advances some of our cows now carry a GPS that allows a cowherd to know where the cow is, and probably through it another part of the herd, the work still follows a long and ancient tradition and culture.

As mountain pastures grow naturally, without human intervention, cows need to move around a lot to find enough food, and their territory has to be large.
Our herd, certified organic since 2007, consists mainly of "Berrenda en Negro", "Berrenda en Colorado" and "Pajunas" cows. They graze freely all year round on 7.000 hectares in the Sierra Nevada National Park, mostly above an altitude of 2.000 metres.
As the territory is so large and also because it is a protected area, it is neither possible nor desirable to put fences in to limit the cattle's movements. This is why the cowboy's job is so important; he has to make sure that his animals do not leave the territory where they have the right to graze, that they do not go onto land cultivated by farmers or get lost.
The cowboy has almost a sixth sense, he always guesses where his cows are hiding even if they cannot be seen. And if he is unlucky, he has to ride hard to find them. If he needs to, he gives them salt and sometimes fodder to tame them. The cowboy is also in charge of controlling breeding and births, he selects the right bull to improve the breed and provides the necessary medicines.

The cowboy, whether from the Sierra Nevada, Andalusia or America, is a legendary and charismatic figure of a man: they have in common their horse, independence and attachment to the land.

Antonio is one of them.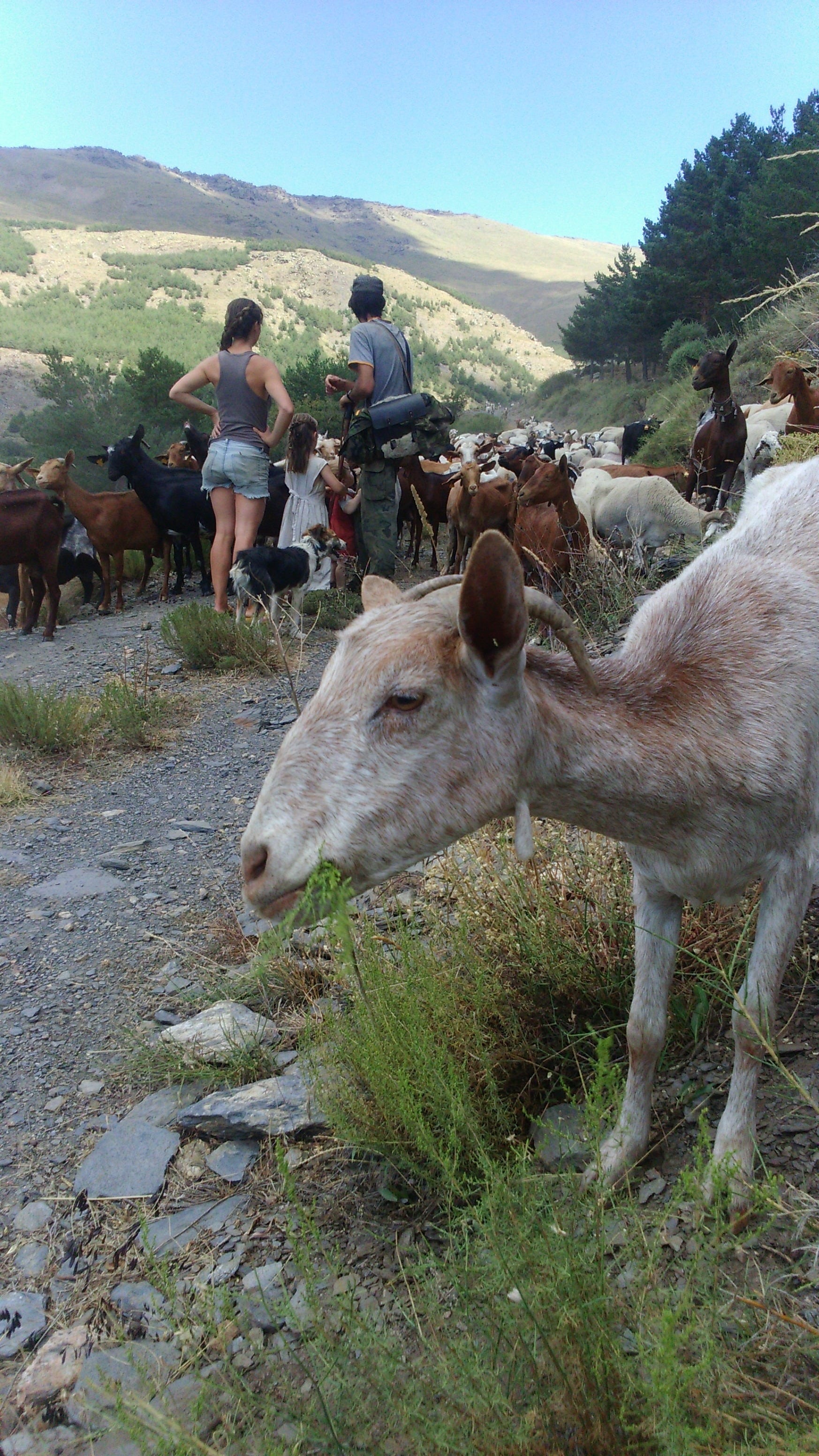 We are Antonio and Clara, a couple passionate about horses, nature and organic livestock. We offer you opportunities to connect with yourselves and nature through various activities within sustainable rural tourism, immersed in the spectacular Sierra Nevada Natural Park.