Discover our animals
living free in the mountains
We are a couple passionate about animals and organic livestock; we have a wide variety of livestock raised in the mountains as close to nature as possible. We want to share with you our passion and our unique way of managing them.
For decades, the inhabitants of the Alpujarra have found in mules their best ally to work their fields, since the lands of this area are full of slopes.
However, the progressive mechanisation of the countryside, together with the abandonment of agricultural work, has brought this peculiar hybrid animal, the result of a cross between a horse and a donkey, to the brink of extinction.

We are working to promote the value and conservation of this animal species, which has always stood out for its strength, nobility and good manners in carrying out agricultural work and transport.

The mule adapts to almost any road and can cover long distances, with a load of between 115 and 200 kilos, depending on the size of the animal, and can also be used to pull carriages and carts.
As a mount, although less slender and slower than a horse, the mule is stronger and more resiliant than a horse and also has the advantages of drinking less water and being easier to feed, as well as being less tired and more docile and cautious on difficult roads; all these qualities make it safer and more reliable.

We also use the mules to cultivate the land; we do the tilling of the land, promoting the traditional and cultural use of these animals. On our neighbours' lands, our mules do the work of cultivating plants (mainly potatoes, but also medicinal plants) and we want to share our vision of these techniques and these animals as a heritage to be preserved.
Our horses
We have horses adapted for trekking in the mountains, they are crossbred horses from three breeds (Pura Raza Española, Arab, Pura Sangre), or other mixtures, so they are more resistant and stronger. Most of them are born and raised freely in the mountains, which allows them to acquire dexterity when walking on steep trails and gives them security even on risky tracks.
In addition to its beauty, the Tres Sangres is characterised by the fact that it is a very functional horse in various equestrian roles. It is brave, reliable, loyal and intelligent.
We educate our horses from foals respecting their nature and the needs of their work; they are confident, safe and fun. Each with their own characteristics, we have two purebred horses, one three bloods and the other Arabian, several mares and foals, all suitable for cowboy work and routes.
Much more than just an exciting means of transport, the horse is our friend. He has incredible gifts in therapy because he knows exactly who we are and shows us this, without judgement or prejudice. As they are not hunting animals, they have a very different intelligence from ours, but this is not incompatible, on the contrary, working together makes us both better. The horse becomes braver and we become more confident, more balanced and consequently happier.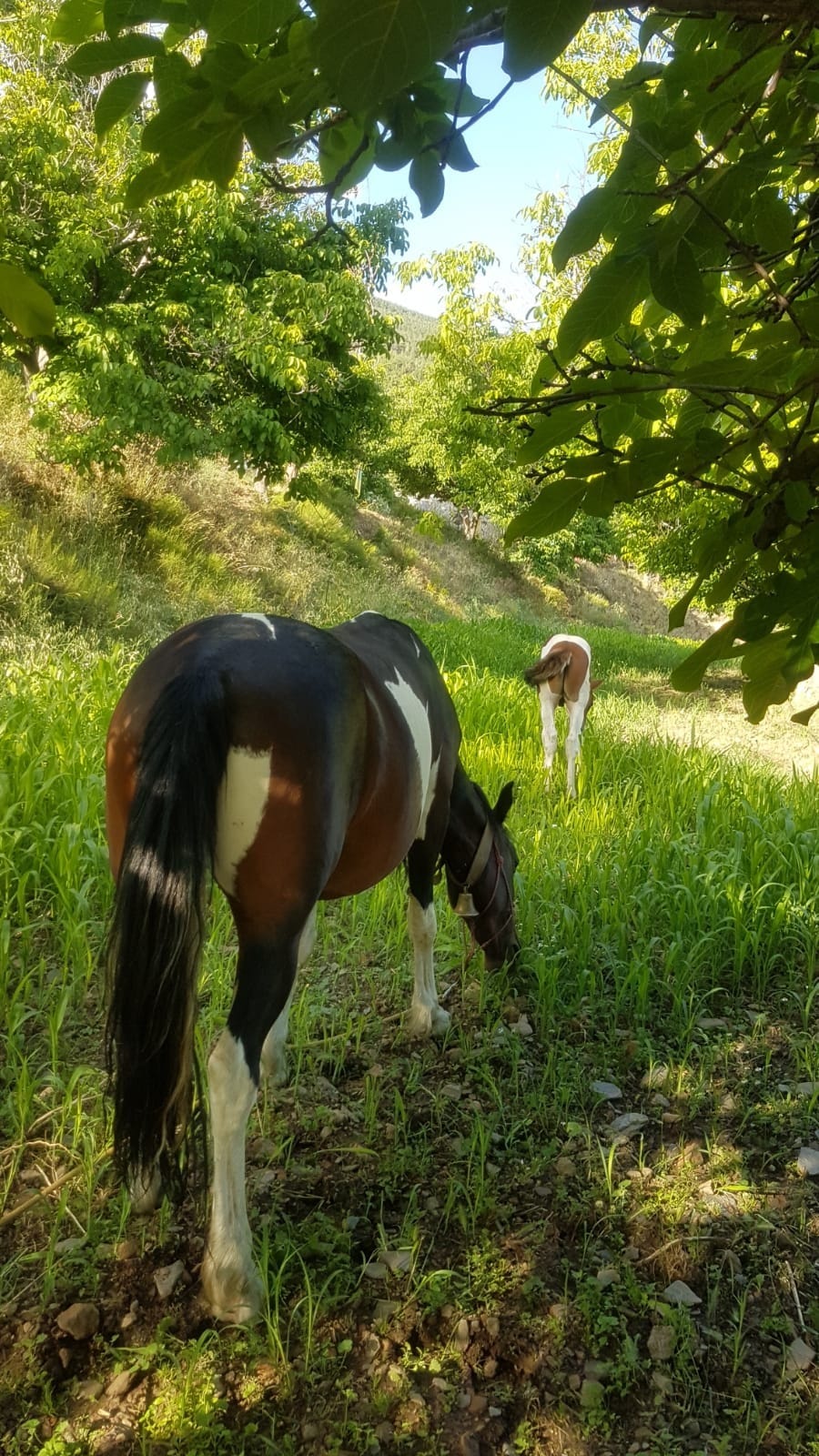 Our cows
This breed of cow is officially declared in danger of extinction. It is a cow that was formerly found in the Sierra Nevada, small in size and very hardy, with the ability to withstand very large temperature changes, from very cold to very hot.
It has been exploited mainly extensively as a work animal, used for ploughing vegetable plots, easy to handle and with a great capacity for learning. They fed on natural grass and stubble. When the village festivals came round, they were decorated and adorned and even raced through the streets. When the festivities were over, they returned to their plots.
The berrenda en colorado or berrenda en negro is a Spanish breed of cattle native to Andalusia.
They are rustic breeds reared in the countryside, not kept in barns and traditionally associated with harsher areas.
Although until barely a century ago, the Berrenda en Colorado breed stood out as a producer of excellent tame oxen used for draught work and for driving fighting cattle, it is nowadays mainly exploited for meat production in a wide variety of conditions integrated into ecosystems of pastureland and hot, dry Mediterranean mountains, to whose inclemency and seasonal fluctuations it adapts thanks to its great hardiness, resistance and extraordinary maternal instincts.
These cows were also very common throughout our mountains and, being very rustic, like the Pajuna, due to their more temperamental character they were not used as working animals, but rather as beef animals.
Their hardiness, together with their strong, almost fierce character, meant that together with the herds of fierce bulls, these animals were used to obtain calves for meat. Incidentally, an exquisite red meat, very tasty and very natural as the fat infiltrates the lean muscle through its extensive way of life, linked to the mountain environment.
Thus, while the "working cows" have disappeared (Pajuna), these pronghorns, having a suitability both for meat and temperament, have remained in the sierras and their use as domesticated animals has allowed them to maintain the breed. They are very noble animals so they are also used for working with wild cattle and can be used for local festivals, pulling carts and used as guides to drive the wild cattle; "vacas bravas".
Our goats and sheep
We have a large flock of sheep and goats that go up to the top of the mountains every summer. They produce organic meat and milk with which we make homemade cheese for our own consumption.